The winner of the Collage Sheet was
Elaine is the winner :0)
Hello Friends!!
Heather here and today I thought I would share with you an Autumn themed card. I just love this time of year! The weather is perfect for me, not too hot...not to cold.
I thought I would create a simple collage sheet with some pumpkins and acorns on it.
Then I found a wonderful sentiment online. "Autumn is a Second Spring, where all the leaves are Flowers." I LOVED it. So I incorporated it into my collage sheet.
Here is my card below.
I used an ivory A2 size card stock base. Added a layer of Kraft paper 4 by 5 inches in size. I then cut out my collage pieces, and found a punched scrap piece of paper, which I decided to include in my design. I inked everything with Ranger's Vintage Photo.
I used my Favorite Brown Sugar Baker's Twine wrapped three times around my post card piece. I then wrapped more of the Baker's Twine around my fingers a couple of times, took another piece, and tied it in a knot around my loops to create a multiple bow. I glued it in place above my pumpkin. Here is a close up below.
I glued the punched piece to the back of my post card, and once the Brown sugar Baker's twine was in place, I glued this piece to my kraft paper layer. To the left of my pumpkin, I added a piece of the
Brown Crochet Lace
.
I topped it with the
Autumn Leaves Grosgrain
, one of the
ribbons from this month's
Autumn Ribbon Assortment.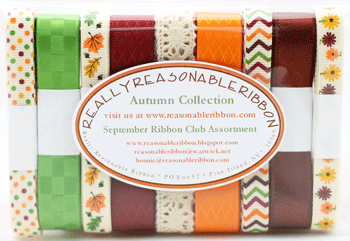 I used the Scor Tape to adhere the edges of both the lace and the ribbon to the back of my kraft paper piece. I also used the Scor Tape to adhere my Kraft Paper piece to my card stock base. I topped off the Autumn themed Really Reasonable Ribbon Goodies with some adorable buttons from both the Latte and Vintage Button Bonanza Collections. I used the Designer Dries Clear clue to adhere the buttons to the ribbon.
My sweet little Acorn and Pumpkin pieces were adhered to the card with
3D Foam Tabs
.
One last look at the finished card.
I Decided to add a few Glitters to my card. I used Brown Gala Glitz on the edges, Rose Gold for my polka dots on the post card, Pumpkin to outline the pumpkin, Country red on the acorn top, Amazon Green for my acorn base and pumpkin leaf...and finally camel for the pumpkin stem.
**How about a chance to win this collage sheet? Simple, just leave a comment below telling me what is your FAVORITE Really Reasonable Ribbon Item, by Saturday Sept 14th Midnight Eastern Time...and I will do a Random Draw and update this post with the winner on Sunday Sept 15th.**
I will be sharing this post with
Make it Monday: Anything Goes
Brag Monday: At the Graphics Fairy
(I used the pilgrim music and post card images)
I hope you have enjoyed my card today...and that it inspires you to create some fabulous fall projects!
Thank you for visiting the Really Reasonable Ribbon blog today!!
Hugs
Heather