Hello Really Reasonable Ribbon fans! Jan here to share a "Sweet Treats Tin". I've used the January Club Assortment and the Bow Easy.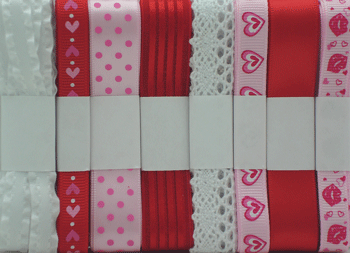 Here's the inside.
Here's how to make your own.
Start with a window tin. Protect the window of the tin by placing cardboard over it. The heat embossing tool may melt the window otherwise.
Using Versa Color Ink pad, rub the tin with some ink, and heat emboss using Cable Car Red Embossing Powder.
Rub random areas with Versa Color and heat emboss areas with Earthtone Pepper Embossing Powder.
Heat emboss a metal trim piece using Cable Car Red.
Cut a Vintage Image to fit the top portion of the tin. Add a piece of white lace to the top edge of the metal trim piece. Adhere the image to the trim.
Adhere this piece to the window.
Using the Bow Easy Tool, make a small bow.
Adhere a pearl heart to the center of the bow.
Adhere the bow at the top of the metal trim piece. Embellish with pearls and a heart gem. Add sweet treats and a vintage image to the inside of the tin.