Hello all,
It's Debbie here, I have something to share with you all today. I tried something new with ribbons from
Really Reasonable Ribbon
. I have been wanting make a headband for many many months but just a little nervous to do it. You know Bonnie, who is the owner of Reasonable Ribbon, she makes headbands all the time and they are just beautiful. Well I followed one of her videos and she makes so easy to create one of these fun headbands I had so much fun. Of course I need a little more practice but I thought for my first one it was pretty good. I made this little headband for my granddaughter Reminie, she's been talking none stop about Halloween, being 2 years old this will be a fun time. I think she'll like the headband. :D
I used the wonderful Too Cute To Spook Mix it's the
September Ribbon Club Assortment
.
So super fun!!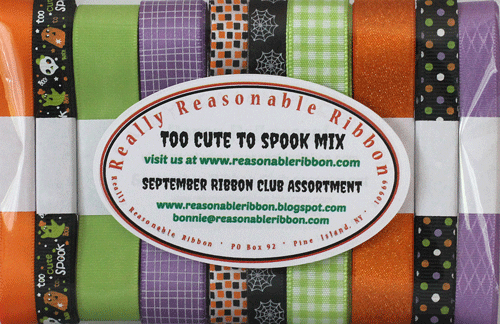 For the hairband I used three ribbons
Here is a front view of the headband.
I just thought these ribbons looked good together
and I really like the little black ribbon
To cute to spook print is just the cutest Halloween ribbon ever!! :D
Here is the back of the headband it looks so cool.
I am really pleased with how it turned out.
A lovely sideview, you can see the little green spooky guy,
there is a skull and the word Boo.
A topview of the headband showing the bow I created using the
Bow It All V3.0
found at
Here is the link to Bonnie's Youtube video showing you how to make these fun headbands.
Supplies:
Thank you all for joining me today. I appreciate you taking the time to stop by and visit. Hope you all head over to the Really Reasonable Ribbons and check out the store and this months ribbon of the month
Too Cute To Spook Mix
. Also don't forget we have a fun new challenge up so join in the fun.