Hello everyone! Cheryl here & I am super excited (Doing the Happy Dance)to be part of the Really Reasonable Ribbon Design Team again! I LOVE working with Bonnie & all the DT gals, as we all always have so much fun. She carries the most BEAUTIFUL assortments of ribbon! I LOVE being able to design with all the different types of Ribbon/lace/trims/& flowers at the RRR Store! Thank you Bonnie for having me once again!!! Big Hugs to you!!!

Okay, so for my post today, I have created a Shadow Box 8" x 8" Layout to share :) Hope you enjoy my post for today! :)
I decided for my first post I would create an 8 x 8 layout for this shadow box I picked up. I went with all purples and some cream, as this photo is a dear one I will treasure always. It 's a photo of my Grandma and I. I miss her dearly!!! I will always remember the day we had this photo taken one week prior to me going into labor with my 1st daughter. I remember my Grandma saying, "let grandma buy you robe for the hospital" hehehe I was soooo TIRED, that I said "Grandma can we wait please" as I just wanted to go home and sleep....hehehee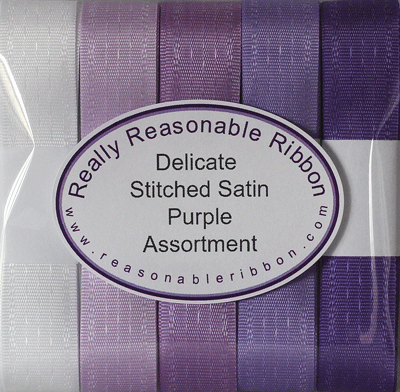 I made a big bow with 2 colors (the lighter 2 next to the white)for the bow on bottom left hand corner. I then made a smaller bow for the 1990 tag, it's glued underneath the oval tag. These Delicate Stitched Satin Ribbons make such beautiful and easy bows! LOVE them!!! And LOVE that there are sooo many colors to choose from, you can see them all HERE!
Layout Measures 8" x 8"
Layers-I used Bling Card Stock for this. And then some crate paper design paper, and another one, the stripes, was from my stash. My 1st layer is an 8 x 8 cream. I then cut a purple bling card stock at 7 3/4" x 7 3/4", then the dp piece is cut at 7 1/2" x 7 1/2". Then add sewing. Next layer is 6 3/4" x 6 1/2". that is cream card stock, then the purple is cut at 6 1/2" x 6 1/4", then the stripe is cut at 6 1/4" x 6", then add sewing to that panel. Next is the Photo layers 6 1/4 x 4 1/2" that is the bottom layer,I then layered the next on cutting it 6" x 4 1/4", and the Photo is 5 3/4" x 4".
Banners- I used thickers to make my banner that says "NANI & I" then used Really Reasonable Ribbons Arianna Lace. I cut it down the center and used both sides for around the banner pieces. Super easy, just use hot glue :)
Flowers- My flowers I made, and I do have a video showing how here , and then I added some of Really Reasonable Ribbons Beautiful Aster Daisy Stem Flowers in 2-tone baby pink, however I did airbrush them to color them to match the PURPLE, I used copic BV00. I added some glass white leaves, and then some punched out branches in purples.
Feathers- My Purple feathers are VINTAGE and I have tons in my stash, love using these with ribbons and such.
Embellishments- I used different buttons, pearls, French Generals Jolee's boutique pieces I gold. I also used the brad with a purple flower in the center(found left bottom corner of layout). Sewing completes my layout for today
I would LOVE to create more of these shadow boxes for a hallway in my home. So I will be sharing some larger layouts, in the black ones I picked up, they are 12 x 12 size, so cant wait to share those!
I hope you enjoyed my post today, as I truly enjoyed creating this one to share!
Have a wonderful day to all!!
hugs,
Cheryl