Welcome back! Hi, I am Nancy and I want to show you this absolutely gorgeous red ribbons from
Really Reasonable Ribbon
and share how I made this card with you. This card is for a couple who is renewing their wedding vows. I like to personalize my cards as much as possible so I was able to use their names in the middle of this beautiful heart.
The gorgeous red ribbon going down the card is the
Stitched Sheer/Satin Ombre Red
ribbon. This ribbon comes in two other colors, royal blue and light blue.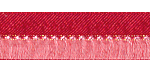 Lately, I have been using this ribbon often on Christmas cards and plan to use it with the Valentine cards along with the
Mid Ruffle Satin ribbons
shown below. This gorgeous ribbon is sheer on one half and double-faced satin on the other half with beautiful stitching running down the center. You can see this on the photo above of the two sides of this ribbon.
I always use
Scor-Tape
from Really Reasonable Ribbon behind my bows and ribbons. If I want to move parts of the ribbon on the bow, I can do it with the
Scor Tape
. The
Scor-Tape
comes in several sizes and I used the 1 1/2 " behind this bow. I added the
Wild Orchid Craft flowers
from Really Reasonable Ribbon and added a charm that I got at a thrift store in town.
This card was embossed with the Sue Wilson Designs-Snow Lattice. The following dies that were used from
Scrapy Land.com
:


Keep visiting the
Really Reasonable Ribbon blog
to continue to see the wonderful projects and cards that Really Reasonable Ribbon Designers have for you during the holidays and stay with us for our next exciting challenge on January 8th. Can't wait to see what you have created!
Have a
Very Happy New Years