Chocolate Pocket Valentine for RRR
I love Valentine's Day! My mom and dad were married on Valentine's Day, my husband and I said "I Do," two days after Valentine's Day, our eldest son walked down the aisle a few days before Valentine's Day, and this year our middle son will take his bride a week prior to the big event. So our family takes this celebration of love and romance pretty literally!
I make a lot of traditional type Valentines, and I'll be sharing those with you here as the month goes on, but I also wanted to try my hand at a more "non-traditional" Valentine. I had this great paper from Webster's Pages and I thought, "Why not?"
I began by rounding the corners on a 7" x 5" kraft card base. I added my layers of matted designer paper to this base after stitching around the perimeter. I glued down a decorative bag that I had in my stash, but you can buy them from RRR
here
. Bonnie has a fabulous selection in all different colors and designs. Adding these little bags to a card design is really fun! Check it out:
I made a matching tag to go in the pocket!
I even had a Ghirardelli chocolate wrapped in teal paper! All I can say is, it was meant to be! The little hearts are punched out of the designer paper, and the sentiment is from a Heartfelt Creations
stamp
. My favorite thing about this tag is the fun
Jute String Bow.
This stuff is so fun to work with! It's thick, but not too thick, and there are some cool things you can do with it. On this tag, I spread a very light layer of white glue on the tails, then wrapped them around bamboo skewers. When they had dried, I pulled them off the skewers, and the tails were all loopy and coiled.
The other thing that is really fun to do with this jute string is adding a banner to your card front.
If you click on this picture, you will see that the banner string is twisted. This is a quick and easy way to add even more visual interest to this great jute string. Just cut a length of jute string that is twice as long as you want the final product to be. Grasp each end of the string between the thumb and index finger of each hand. While holding the left hand still, spin the twine toward you with the thumb and index finger of the right hand. When it is nice and tight, bring both hands together and the twine will wrap around itself, creating this great look. Then, just secure it with brads and a few dots of white glue. I also wrapped the twine around the top of the bitty bag.
In my opinion, no card is complete without a touch of ribbon! I used the dreamy shimmer satin ribbon from this
assortment
. Here's a peeky: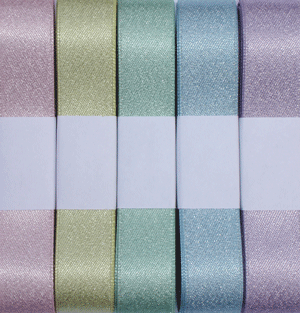 Yummy, right?
And this is the inside of the card. It says, "You read me like a book." Punny, right?
And that's it for me today, folks! I hope you enjoyed this little Chocolate Pocket Valentine Tutorial! I had a blast making the card, and I love sharing my ideas with you.You are always welcome to pay me a visit at
Kathy by Design
! I'd love to hear from you....your comments make me happy right down to the tips of my crafty little fingers! Until next time,
Cheerio,
kathy