Good morning, friends!
Today kicks off my favorite week of the year! It's time to start my Thanksgiving baking!
Exactly one week from today is Thanksgiving, and let me tell you, I love me some Thanksgiving! It's is positively my favorite holiday of the entire year.
I come from a long line of pie bakers: my mother made gorgeous lattice-topped cherry pies, my grandmother made the worlds' best blueberry pies and my great-grandmother made pumpkin pies with a rich custardy filling and perfectly flaky crust.
While the turkey and dressing are important elements in our holiday meal, my whole family looks forward to Thanksgiving pie.
Those traditions are what prompted me to choose this Graphic 45 image to compliment this fabulous Autumn Diamond Satin Ribbon from RRR.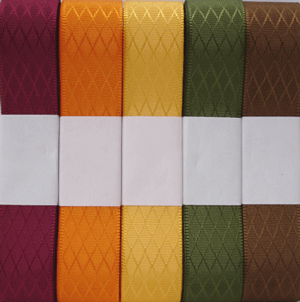 I absolutely love these rich, regal colors and the luxurious finish of this satin ribbon. I was going to tie a bow, but then I got the idea to create a rosette (because it looks like a pie!) and tuck the ribbon underneath it.
This is such a simple way to add color, texture and visual interest to a card.
I also used a length of beautiful Francis Crochet Lace down the left hand side of the card because it reminded me of my Great Grandmother's lace tablecloth. I tapped it lightly with Tea Dye Distress ink to age it. This adds a great vintage feel to the project.
I also used a cracked glass technique on the main image to give it an aged appearance.
Two little chipboard tags were topped with a sweet gold button and jute string from RRR.
I colored the white jute string with my Spectrum Noir markers.
Here's a peek at the inside of the card:
I just love the way the ribbons, lace and twine finish off this card. It would look "nekkid" without them, don' t you agree? In fact, I like this card so much, I'm going to enter it in the Graphic 45 November contest, and this week's Mojo Monday challenge.
So, what's for dessert on your Thanksgiving table? Are you more prone to baking the traditional pumpkin pie? What's your family favorite? Whatever graces your dessert table, I wish you a very Happy Thanksgiving. May your hearts be filled with joy and gratitude, and your dessert table be filled with sweet delights.
Cheerio,
kathy